Galahad's Fool – a novel of puppets & renewal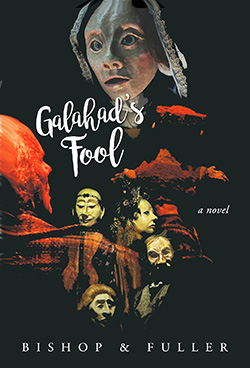 Galahad's Fool is an off-beat lyrical mutt of a novel, seesawing between the mundane reality of backstage rehearsal and the dark fantasy of what's being created.
A year after the death of his lifelong wife and co-creator Lainie, an acerbic veteran puppeteer struggles to build a solo show. What Albert Fisher intends as a lightweight spoof turns sharply personal, and he labors to birth a raw myth of love and loss.
His aging Galahad, bereft of youthful vision, launches a new quest for the Holy Grail, while his frantic wife disguises herself as their frail androgynous Fool to journey with him.
Albert wrestles with the hero he's creating, yet comes to see his kinship with Galahad and to face the risk of rebirth.
We know the character of Albert Fisher well, having ourselves worked together since 1960 and toured nationwide as playwright/actors since 1969. The novel is part fantasy, part reality, all arising from the inevitable question: what happens when you lose your life-mate? In Galahad's Fool, we hope to offer a glimpse of backstage reality unadorned by glitter but blessed with a hardscrabble magic.
 (189 pp., paperbound, $14.95)  Buy Now  
* * *
An experimental, labyrinthine work that highlights the all-consuming nature of art … A visceral, affecting portrayal … At once an exorcism and a creation, allowing the line between the writer and the written to blur in a brilliant closing act. Galahad's Fool takes themes of aging, metacognition, and loss to unexpected places. Scenes skillfully reveal self-doubts and bursts of generative insight.
— Foreword Reviews 
Bishop and Fuller draw on decades of experience as playwrights and puppeteers to craft a novel about love and creativity. … It's both an existential drama and a comedy, in which the reader's aha moment is the realization that an epiphany isn't forthcoming. … An inventive story about the ebb and flow of the artistic process, and of life itself.
— Kirkus Reviews 
Exceptionally well written and unfailingly entertaining, Galahad's Fool is an engaging read from cover to cover and will prove to be an immediate and enduringly popular addition to personal reading lists.
— Midwest Book Review 
Nuggets of wonder … The writers of this tale offer scenes of perfection when it comes to backstage life, making the scents and sounds of the playhouse world jump off the pages…. And watching Albert relieve himself of burdens and learn how to bring back the soul in both a puppet's eyes as well as his own can and will take your breath away. There is emotion in this book that is done so well there's no doubt you will read it again and again.
— Feathered Quill Reviews 
Galahad's Fool is a remarkable novel. Professional puppeteer Albert Fisher's quest to create a new show after the death of the woman who has shared his life and work for decades is an astonishing exploration of the power of art and stories to challenge and sustain us. It's filled with lively writing, witty lines, quirky observations, and wise insights. It is also the most accurate and entertaining portrayal of the creative process and how stories get discovered and developed that I have ever encountered.
—Jean Hegland, author of Into the Forest and Still Time
A remarkable story … What unfolds is a tale of quest, loss, redemption, love, and surprising plot twists, using metaphors that will make you laugh, cry, or recoil. Readers must stay focused to follow the changes that ensue because Albert is pulling the strings. Or is he?
—Waights Taylor Jr., author of Our Southern Home and Heed the Apocalypse