—From EF—
On Saturday the 12th, we participated as writer/readers in a special version of LitQuake. This is a San Francisco literary word-fest that is now in its 20th year, and consequently spawned 20 satellite events throughout the Bay Area. Ours was in Occidental, at a magical place that I hope will develop its own quirky and enchanting series of events.
We were an evening's-worth of writers and poets, each sharing a short segment of our work, then sharing a group paella. The paella's subjects were saffron rice, chicken, andouille, peppers, and loads of garlic. When I saw the first whole garlic clove, which I mistook for a white bean, I thought, this is gonna be heaven. The readings' subjects were equally tasty.
Our own reading was a scene from our first published novel, Realists. Its genesis was in 2001, a theatre project at Juniata College (Huntingdon Pa), and its sprawling story, with a cast of eighteen, dictated that this would be its only staging. But the opportunity to work with such a lavish palette allowed some pretty outrageous ideas to take shape. In fact, we inadvertently forecast the political landscape of today. Sorry, folks.
The basic premise was that at some time in the near future, an incompetent fascist (Bud Pert) would be elected President, largely because too many folks chose not to vote. His party, called the Realists, campaigned on a broad platform: "The other guys babble about the issues. Bud Pert says two words: 'Get Real.' Vote Realists in 2020. Give it to'em. Hard."
The resulting victory enabled making dreaming illegal. Pornographic, frightening, a waste of energy, dreaming was unpatriotic and would be eradicated by adding anti-dream meds to the public water system.
In our play (not the novel), we had a Motown-style trio tempting folks to drop their meds:
Hey, baby take a walk with me
Open the gate, let's go down to the river
Hey, baby take a walk with me
        Unlock the door, you know
         You've been there before
And you wanna go again (and again and again and again)
Hey, baby take a walk with me
There's a brand new surprise at the back of your eyes
         And it's gonna make you shiver
        When you step in the river
And you're gonna take a walk with me
If you can't dream, you're likely to go nuts. And in the novel, a far-out physicist predicts that subjecting groups of dream-starved people to extreme stress would rupture the fabric of reality and result in floating islands of people who can't communicate with each other. Sound familiar?
Long story short, the Dreamers win, at a bizarre cost, but they win. And we, the LitQuake and other merchants of the written/spoken word, believe that somehow we will win. If we all connect and dream together, maybe anything's possible. So go on, dream, read to your kids, and talk to each other.
###
—From CB—
A few years ago, I attended a weekend men's retreat. In the woods, good food, well organized, interesting men of all ages—I left dissatisfied.
That was predictable, knowing me. If I hadn't been a writer and stage director, I would have made a great dentist. My instinct is to go after every cavity with ferocious intent. I am perpetually critical of workshops, having conducted so many. It may be the satirist's mind that attracts me to diverse groups but positions me always at the edge. Or it may just be shyness.
The broad intent of the gathering, as I understood it, was to help us define what it was to be a man in the present day; to heal; to open emotionally; to heal; to focus awareness of myth, of guilt, of grief, of friendship; and to heal. All good intents, and no question the world would be a better place if even a tiny bit of that could happen on a wider scale.
What incited my withdrawal? To some degree, probably, because I tend to protect my griefs, my sins, my wounds from public scrutiny: I write fictional characters, not self-expressive lyric. And to some degree because since childhood I've had an unfocused, instinctive fear ofmen. Casual friendship, yes. Professional friendship, yes. Deep and sharing friendship, never.
 And perhaps I don't really want to be healed. I want, first, to be kind. Second, to craft the muck into art.
I have created characters who are selfish, egocentric, self-pitying, and violent. Those are not only observed phenomena: they are part of me. I do my best in my actions not to be true to my inmost self: I greatly prefer to offer the world and my loved ones the kinder, gentler version. No less true: I believe our angels dance with our devils, and they all split the rent.
I admire the Christian experiment in its attempt to purge each individual soul of the kelp and barnacles clinging to it, aiming at something pure. But I fear I'll always look at the barista's shapely hips or the last piece of pumpkin pie with lust in my heart.
We are all, I believe, a multiplicity of selves. We're persuadable to change our habits, our choices and our actions to conform to the standards we set for ourselves, but a much harder surgery to cast out the demons in our souls, even among receptive litters of swine (Matt. 8:28).
I still hunger for friendship and fellowship, and I celebrate those who find it. Meantime, I gravitate to the edge of parties.
###
—From EF—
      I'm an Aquarius. I remember my surprise when I discovered that it's an air sign, not water. OK, I understand, but I still have a bone-deep attraction to all things Water. I think it's sensible that small towns and villages in Italy and France often attach their name to the name of the nearby river or stream, as in Marcilhac-sur-Célé, where I visited for three days in mid-September after visiting Johanna in Italy. The Célé is in south-central France, right on the path of the Camino de Santiago, and Brigitte has a house and gîte (guest cottage) just outside Marcilhac. Our mutual friend Steven had said time and again, "You should really visit Brigitte." So I did.
         In the village the Célé is a sweet little stream, wooded on one side and graced with a grassy park on the other; both are mirrored in the clear water. There's an ancient abbey by the stream, and in a short underpass leading from the stream to the abbey's street I found this sign. (translated) "The underpass is not a urinal. Respect this historic place. Every person found in flagrante delicto will be subject to confiscation of the flagrant object." Don't mess with the river.
         The beginning of my stay with Brigitte coincided with the end of a two-week visit from her best friend Sarah, who is from England; they met as teens and have been fast friends ever since. Two amazing women; I hope to stay in touch. Our streams touched briefly; it's up to me to keep the current going.
         The Célé flows into the Lot, which joins the Garonne and flows into the Atlantic. When I took the train to Paris to fly home, my route was along those rivers to their combined destination at Bordeaux. That seemed fitting. I saw all these little rivers become larger, still reflecting everything along their banks, until they disappeared in the city. I don't want Brigitte and Sarah to disappear.
         All the little rivers I know, the Sieve, the Pesa, the Elsa, the Célé and the Russian River at home, all flow into an ocean, all are fed by the rain. I can imagine them gossiping, trading outrages and delights, just as I chatted with two Australian women walking the Camino as I waited for my train in Cahors.
         So much divides us, so much connects us. It's up to us to choose.
###
A weekly view of the world we
wake into every morning. 
Books and Media by
Bishop & Fuller
Available Now!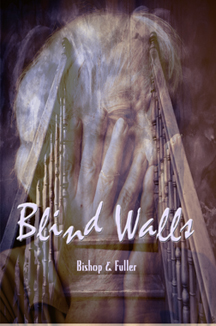 Blind Walls
a novel of blue-collar ghosts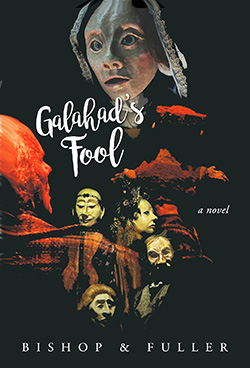 Galahad's Fool
a novel of puppets & renewal

Co-Creation:
50 Years in the Making
A Memoir of the Creative Life

Rash Acts
35 Snapshots for the Stage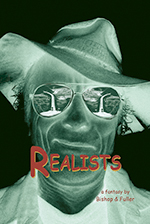 Realists
A Novel of Dystopian Optimism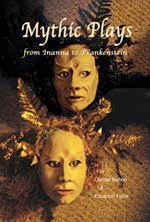 Mythic Plays
From Inanna to Frankenstein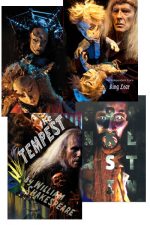 DVDs
Stage Performances!