—From CB—
On our afternoon walk today, I asked Elizabeth a moderately unanswerable question. I'm ready to begin the third draft of our new novel, a very surreal dystopian thing with a cast of dysfunctional characters, and I asked her regarding one character, "What does it need for us to connect with him? To empathize?"
The question has roots in a personal failing: I empathize too readily. Except for a few people over the years who've either hurt someone close to me or cost me money, my judgmental self is supplanted by my actor's instinct to empathize, to see people from inside themselves. Had I the power, I still might give them 20 years in the slammer, but it would be like sentencing myself. I have to admit that would include Shakespeare's Lear or a murderous cop or our pathetic, hideous President.
Why is this a potential failing? Artistically, because I might be too far separate from my audience. What to me might be a character vital to understand might be to someone else a soul to write off as irredeemably vile. So I might tout myself as more humane, but my story won't work for them. I can't ignore that issue: all my attempts in a life of art have been to build empathy.
Sometimes empathy as generosity, empathy as love, but also empathy as knowing your enemy: empathy as forcing ideology to face reality. I'm a highly judgmental creature when I face the mirror, so perhaps I'm wanting to answer that question in relation to myself.
But the more immediate question is, What makes us empathize? And with anyone outside our self-defined tribe? Collectively, we're not in a very generous mood these days. A character you identify with? A character whom you'd invite to dinner? A character who feels your pain? A character who's a victim? A character struggling against some inner demon? A character who's at least trying? A character who screams? A character who entertains?
Elizabeth and I talked a long while. Useful, but the story will decide. Getting home, we packaged up the week's bagful of cat extrusions to submit to the garbage collectors. It's harder with publishers.
###
—From EF—
I am up to my eyeballs in 1960-1963, my years at Northwestern wherein I (a) met Conrad Bishop, (b) sank to what was unquestionably the most disturbed mental condition of my life, and (c) started the long, long trek upward to actually having a life. My memory of those years is understandably a Swiss cheese, and I've been reaching out to the few hardy souls we knew then who are still alive, getting some bits and pieces from their own recall to help mine tune in.
The memories have been all over the map. "Oh yeah, I remember, we were in the same dorm." "Yes, that apartment was at 809 Foster Street." "And omigod, this is incredible, let's figure out how to do something together again."
My gates are unlocking, the blocked streams are starting to trickle, and the overall effect is that I am overwhelmed with love for so many different things. Love for this person who instantly became almost part of my DNA: this weekend we used Criterion to watch Ingman Bergman's A Lesson in Love, the movie we saw on our first date in 1960, and here we are, sixty years later, sheltered in place amid cats and stacks of paper and the keen beauty of afternoon light through the leaves.
And love for those who were part of our life then. It's good to know that my dorm-mate has had an international high-profile career as actress and teacher, that the co-tenant of our love nest has a string of acting credits longer than the Brooklyn bridge, and that our actor-collaborator in the edgiest thing we did there (Brecht's Baal), has combined serious theatre work with developing therapies that nurture endangered kids. Sixty years later we're all still swimming in the same stream.
So it's Father's Day, and it's the Summer Solstice, and I think of the ritual we were part of at Starwood so many years ago. Conrad was the Sun God, I was Mother Earth, and what played out was an affirmation that the pain of distancing sharpens the joy of return and the connection will never be broken. Sixty years ago, we were part of a ferment that still bubbles, where we were all the pistil and the stamen, the bee and the nectar, and after we are all gone, it will go on.
###
—From CB—
Early summer of June 1961, I called my mother to tell her I wanted to get married. I knew it would be a shock. I was 19, it was the end of my freshman year at Northwestern, she hadn't met Elizabeth, and as a single, working-class mom she knew the trials of survival. We had a difficult phone call (500 miles apart), I wrote her a long letter, and she replied. That summer she came up to visit (I took summer classes), she met my lifemate, was totally smitten and sold. We officially married that August, though we celebrate the previous Nov. 13th as our true bonding.
 In researching her own memoir, Elizabeth found those letters. I read them partly with chuckles, partly with tears. Margaret Lucille Pitzer Bishop Sagan Leuck died in the 90's and stands before me now. Portions of her letter to me, 6/7/61:
###
Dear Conrad,
You know I have always stood behind you in all your undertakings and always will. From your first baby steps across the floor to your fights on 6th St., your work and struggles for certain merit badges, your school plays (I was your worst critic)—your scholarships, awards and badges. My enjoyment was giving you encouragement and love because that was about all I had to offer you—the dollars were few and they were for necessities. Your many honors repaid me for my efforts.
Secretly, I have feared that you might meet and fall in love with someone who might not understand your make-up. Being raised in a little shack across the tracks on 6th St. makes one different. The outdoor plumbing, the pot bellied stove with the wood pile beside it—the little black Buzz Fly with her puppies in the kitchen, the snow blowing in the windows and the sound of the rats gnawing when the lights were turned out. These were not the highest standards of living. But this was our home and there was love in it. You would bring your book and climb up on my lap, and I would kiss you and love you and tell you that you were the only thing in the world that I really loved. Then I would kiss you and hug you and your little eyes would just smile. Then there were the bad days—when I had to punish you and tell you "no" to things that you really wanted to do. This hurt me, too. I bring all these things up because it was only yesterday…
Then suddenly, when you called out of a deep sleep to tell me you planned to be married, you were grown up all at once—I nearly folded up. All at once you had grown up— Yes, I expected it eventually but to believe you were planning your own home seemed strange. Soon another woman would take over. Will she understand his ways? Will she think I did a lousy job raising him? Will he understand his responsibilities in a home? Will he be thoughtful of little things that bring a wife much happiness? Remember kind words are easily spoken and mean a lot.
I feel, after reading your letter, you may have found the little lady who may understand you. I have every confidence in your choice. Marriage certainly is a business—not only from a monetary angle, but must be worked at faithfully and as a team to make for happiness. … I have no advice now or ever—do not plan to give any. Suggestions, yes and encouragement, yes. … But any decisions to be made are yours, the two of you.
There are very few girls nowadays that would want to sacrifice to this extent. Your plans sound workable except for the unforeseen things which might arise before your graduation. But there are always ways to work things out if there is love and understanding. As I told you I would feel that I was gaining a daughter, which I never had, and will be to her the same as to you. I certainly would want her to feel that I would be the same as a mother and not a mother-in-law.
Naturally, there will be a big adjustment—you may have a little "rough sledding" at times but if you do I have every faith in you that you won't be a quitter. It's getting late so will drop you a line Sunday.
This letter sounds rambling, but knew you would want an answer to your letter, so I am sure you can get the meaning if it isn't worded in the best style. So here it is.
Love,
Moth
###
That was 59 years ago. It worked out okay.
###
A weekly view of the world we
wake into every morning. 
Books and Media by
Bishop & Fuller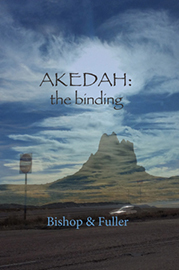 AKEDAH: THE BINDING
a novel of promises broken or kept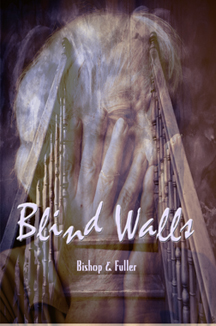 Blind Walls
a novel of blue-collar ghosts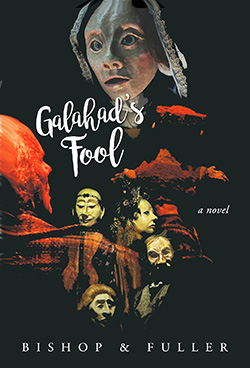 Galahad's Fool
a novel of puppets & renewal

Co-Creation:
50 Years in the Making
A Memoir of the Creative Life

Rash Acts
35 Snapshots for the Stage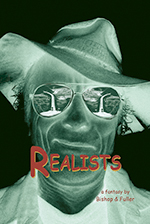 Realists
A Novel of Dystopian Optimism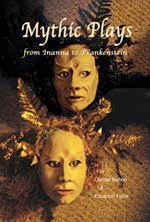 Mythic Plays
From Inanna to Frankenstein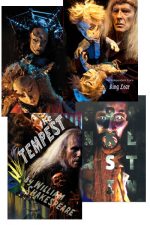 DVDs
Stage Performances!